Cheetah RDFM-T FM Audio Transmitter
Cheetah RDFM-T FM Audio Transmitter
View Images
Price: $29.00
Availability: in stock
Prod. Code: RDFM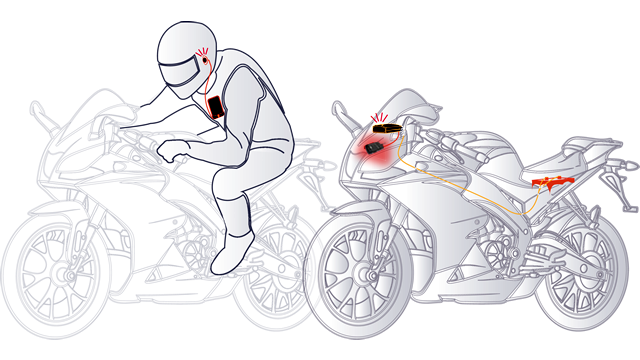 Lets you hear radar detector alerts (or C50 alerts) when riding your motorbike!
The Cheetah RDFM-T FM audio transmitter plugs into your radar detecto's headphone socket and sends radar and laser alerts to any FM radio. So you can hear in-helmet radar and laser alerts.

Hear radar and laser alerts:

On Cardo systems with an FM tuner.
On Smartphones that have an FM tuner (such as Android smartphones

) - just plug a headphone in to your phone.

On any FM radio. If you don't already have an FM radio, any inexpensive pocket radio will work!

Just plug the RDFM-T's 3.5mm connector into your radar detector's headphone socket, switch it on and tune in!

The RDFM-T also works with our C50 GPS camera detector so you can hear GPS speed camera alerts if you don't have or don't want a radar detector.

If you don't already have a headphone for your helmet, we offer a very comfortable D-shaped headphone at a great price. You can add this during checkout.
Easy to operate
The simple to read LED display shows the selected FM frequency. Each time you switch it on, the last selected frequency is automatically selected. There are 20 different frequencies available.

The Cheetah RDFM-T is powered by 2 standard 1.5V AAA batteries, which give an extra long operating time.

Note: Batteries are not included in the retail pack to keep the shipping weight and cost down.
How to use
How to use

1. Install 2 * 1.5V AAA batteries into the Cheetah RDFM-T;
2. Plug the 3.5mm connector into your radar detector;
3. Turn on the Cheetah RDFM-T and select your chosen frequency;
4. Adjust the frequency of your FM receiver to be the same as the frequency of the Cheetah RDFM-T;
5. Now enjoy hearing radar detector alerts on your FM receiver.
Other uses
If you are not out riding, you can plug your Cheetah RDFM-T into any music player that has a 3.5mm headphone socket. Then your music is transmitted to any FM receiver nearby.

The FM transmission range is excellent, so you could listen to your iPod or MP3 music through your vehicle's radio. Or you could listen to your living room CD player on your bedside radio.

The Cheetah RDFM-T will transmit crystal clear stereo music to any FM receiver within range, even through brick walls!
RDFM-T specifications
Frequency range: 88.1MHz - 107.9MHz.
Audio input response range: 25-15000Hz.
Working current: <30mA.
Working temperature: -10~45℃.
Storage temperature: -20~60℃.
Dimensions: 62.5 × 38.5 × 17.7mm.
Dimensions: 2.4 × 1.5 × 0.7 inches.
Weight: 41.4g.
---
Accessories: